Situated in the northwestern part of the United States, Idaho boasts a rich and iconic Native American heritage. In addition, it is home to some of the most prominent tribal or Indian casinos, which are spread out throughout the state.
Nicknamed "the Gem State", Idaho hosts several land-based casinos that offer games such as slots and poker. The horse racing betting industry is also popular with licensed horse racing tracks available within the state.
Furthermore, there is also a state-owned lottery that sells scratch-off and lotto tickets for games like Mega Millions and Powerball. Here, it's a laid-back atmosphere where residents and visitors can gamble without the fuss that is typical of big cities.
If you are looking to gamble in Idaho, look no further, as we've got your back. On this page, we will talk about everything you wish to know about casino in Idaho casino. This includes their history as well as the different types of casinos available there.
Additionally, we will also discuss the current gambling laws and how the government taxes all gambling winnings. Last but not least, we will give a list of some of the best casinos within this US state. Read on to find out more.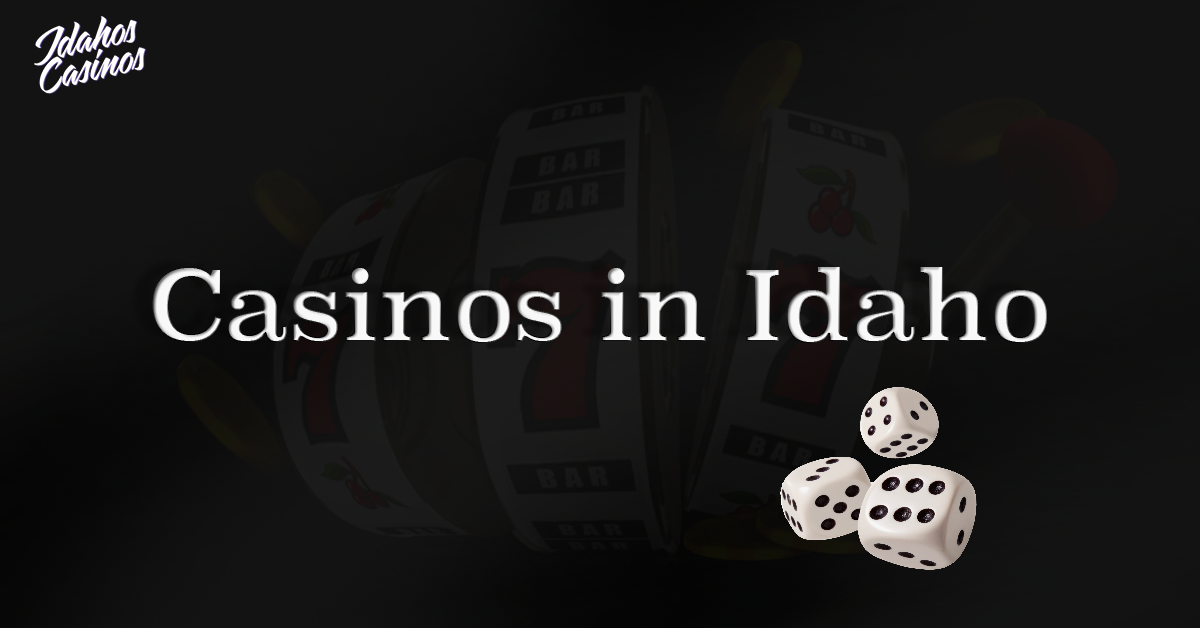 Are there casinos in Idaho?
Yes. As just mentioned, Idaho is dominated by tribal casinos, which are defined as regulated gambling facilities on Native American land. These establishments offer a unique betting experience and contribute to significant job creation in this US state.
In total, there are eight land-based casinos within Idaho, that are spread out across various cities. While two of these venues are in Plummer, the rest are in Bonners Ferry, Kamiah, Lewiston, Blackfoot, Pocatello, and Fort Hall.
At these casinos, you'll find a wide range of slot machines and poker tables, including Omaha and Texas Hold'em. Apart from that, some establishments offer extra services like convention centres and meeting spaces.
What different types of casinos are there in Idaho?
Idaho may be a relatively small state, but it provides lots of opportunities for gambling enthusiasts. Currently, there is only one casino in Idaho namely, an Indian or tribal casino.
These facilities offer a wide range of authentic casino gaming options for players to choose from. Other than that, you can participate in pari-mutuel horse racing betting, or you can buy lottery tickets at a local outlet to try your luck in the national lottery.
History of casinos in Idaho
The history of casinos in Idaho dates back to the mid-1800s when gambling was prominent in some regions. However, when Idaho attained statehood and a new constitution came into effect, officials started the crackdown. The constitution brought a ban on any kind of "betting or gift enterprise" within the state.
In 1947, the legislature legalized slot games. This led to a massive influx of slot machines from Nevada, with many players celebrating the new law. However, the celebration was short-lived as the law was rescinded, consequently illegalizing the devices again. In the 1970s, betting on horse racing was legalized.
The biggest break for players came in 1988 when the Gaming Regulatory Act came into effect. This Act introduced a national lottery and permitted native Idaho tribes to open their own casinos. Afterwards, the authorities came up with various laws to regulate gambling activities, including outlining the tax obligations of operators.
Full list of Idaho casino
Here is a complete list of the eight casinos operating in Idaho:
Bannock-Peak
Clearwater-River
Coeur D'Alene
Fort-Hall
It'se Ye-Ye
Kootenai River-Inn
Sage-Hill Travel Centre
Shoshone-Bannock
Best casinos in Idaho
While all the aforementioned casinos will impress any gambling enthusiast, there are some that stand out from the crowd.
The following are the best casinos in Idaho:
Coeur D'Alene — The biggest casino in Idaho. It offers more than 1,500 slot machines and 6 poker tables.
Kootenai River-Inn — At this prestigious casino, you will access 400 slot machines, a bingo hall, restaurants, and a spa.
Shoshone-Bannock — This establishment provides 900 slot machines plus a luxurious gaming lobby.
Is online casino legal in Idaho?
At the moment, online casinos aren't legal in Idaho. This means players cannot bet on online versions of casino games such as slots and video poker. In fact, there isn't any bill in the works to legalize online casinos, and this is not likely to change in the near future.
Gambling laws in Idaho
Idaho is quite strict regarding gambling, and its laws clearly reflect that. The only sports betting accepted in Idaho is off-track wagering on horse racing events. For this, sportsbooks such BetAmerica and TwinSpires accept wagers from Idaho residents.
Other than that, no legal options are available for sports such as baseball, football, and basketball. Besides, Daily Fantasy Sports (DFS) are also not allowed. Idaho gambling laws also allow land-based casinos, lotteries, and pari-mutuel betting.
Additionally, raffle and bingo games that are run strictly for charitable purposes are also accepted. When it comes to the legal gambling age, some operators place it at 18 years, while others only accept players aged 21 or older.
Quick facts about gambling in Idaho
Here are some facts about gambling in the Gem State:
A large part of the gambling market is dominated by tribal or Indian casinos.
Online casino gaming and all online versions of slots and table games are not legal within the territory of Idaho.
The Gaming Regulatory Act, which came into effect in 1988, oversees all gambling-related activities in the state.
There is a state-owned lottery that offers lotto opportunities to residents.
Eight land-based tribal casinos operate within the state.
The best casinos Adaho are Coeur D'Alene, Shoshone-Bannock and Kootenai River-Inn.
Online betting opportunities are only available at horse racing events.
Taxation of gambling winnings
As required by law, all winners in Idaho must comply with tax regulations. For this, all gambling winnings are usually subjected to a federal tax rate of 24%. Besides that, a levy of 6.925% also applies to all winnings that exceed $5,000.
That is why when you get your winnings as a check, you'll also get three W-2 G forms. One form is for filing the federal tax, another one is for your State of Idaho taxes, and the last form is for your own records.
The future of gambling in Idaho
Currently, the gambling industry in Idaho is dominated by tribal/Indian casinos that are meeting the demand for gambling games. However, in regard to online casino gambling, the laws are quite strict and prohibitive.
In addition, there are no plans to make things better despite the pleas from stakeholders to legalize online gambling. However, players are still keeping their hopes high that things will change soon.
Summary of casinos in Idaho
Overall, gambling is largely restricted in Idaho, despite the longstanding history as a region that was friendly to card players travelling there. Indeed, this doesn't mean that you cannot involve yourself in gambling activities. There are also land-based casinos where you can play your favourite slot machines where you even have chances of winning money.
Alternatively, you can buy lottery tickets at a local store, or place pari-mutuel bets on horse races. And that is all that the Gem State has to offer in terms of gambling opportunities.